Tashota Resources Inc. ("TRI") is a Prospect Generator junior exploration company led by a talented team of professionals having significant exploration, engineering, project financing, and permitting experience. Under their guidance, TRI has acquired significant land positions in Ontario (at the Hemlo, Shebandowan and Beardmore-Geraldton gold camps) that represent significant mineral exploration potential.
Hemlo Gold Camp
In the Hemlo Gold Camp, TRI has acquired over 19,000+ acres (100% optioned) of prospective claims surrounding Barrick Gold Corporation's 23 million oz. Au. Williams Mine and open pit.
Barrick Gold has been very active at Hemlo, including drilling and exploration – particularly in the vicinity of TRI's Hemlo West property – just 1,100 metres away. The graphic below is from Barrick's Q2, 2021 Presentation: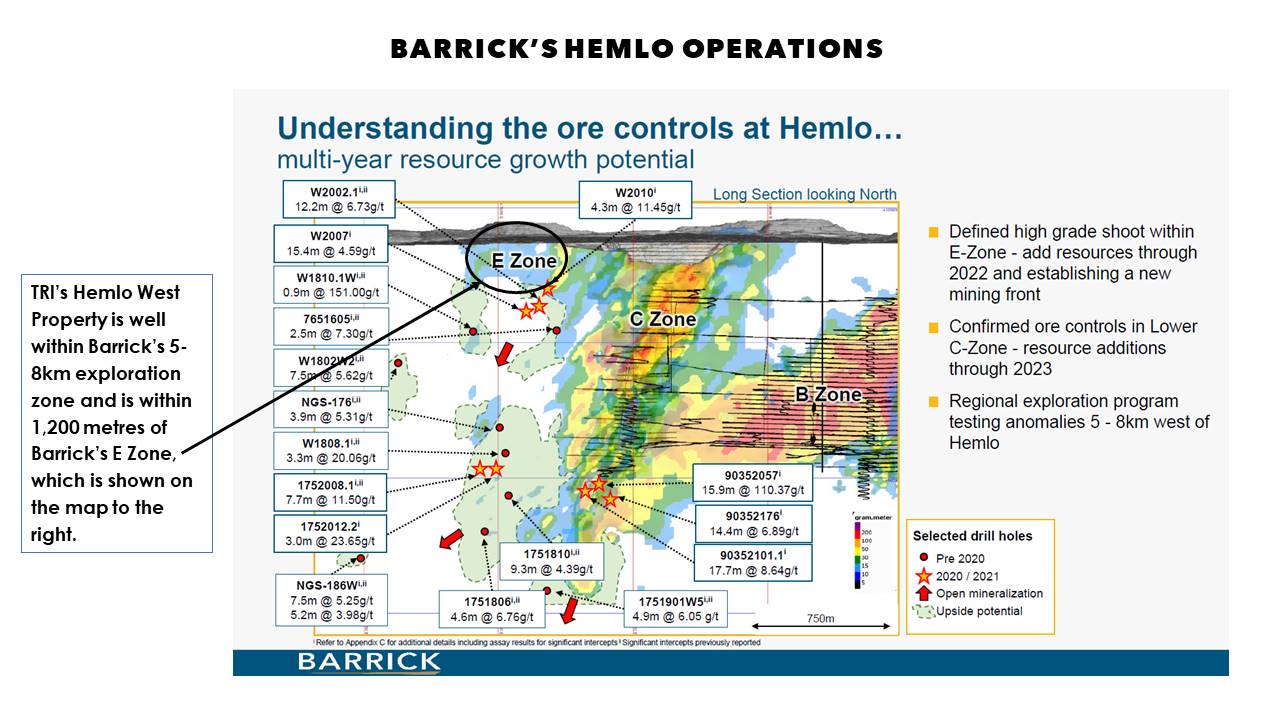 Click on image to enlarge
TRI previously completed a 327 km airborne geophysics program on its Hemlo South property, which detected drill targets of interest. A combination of previous gold anomaly in soil, potassium anomaly from radiation, and inferred fault structure, further supports various drill targets of interest.
TRI has also completed a 956 km airborne T-Dem survey covering Hemlo West, Hemlo North, and the Hemlo Black River Option. The survey offered confirmation of inferred shear structures relating to the previous interpreted shear zones outlined by Kaminak Gold.
Shebandowan Greenstone Belt
Also in Ontario, TRI has acquired the Larose property, which is situated 110 km west of Thunder Bay in the Shebandowan Greenstone Belt. This property includes the Larose Shear Zone (LSZ) which runs approximately 14 km through the Echo Ridge property (TRI controls 100% of 9 km and 50% of the balance). The combined properties cover approximately 16,500+ acres, the largest land position in the immediate area. During the summer of 2016, TRI completed over 24 km of re-worked roads on the Larose property in order to facilitate further prospecting and drilling.
TRI has conducted a T-DEM airborne survey of approximately 811 km at Larose in order to provide further guidance for its exploration activities and ongoing drill program, already commenced. Indeed, the first drill hole intersected an "unexpected" high grade gold bearing zone, including 5.65 grams of gold per tonne (g/T Au) over 3.00 metres from 42.00 to 45.00 metres downhole, including 0.50 metres of 27.69 g/t Au (.97oz). If adjacent samples with lower gold contents are included, a section from 38.50 to 46.00 metres, averaged 2.84 g/t Au over 7.50 metres. TRI is presently performing additional exploration drilling to determine the extent of the Larose/T-Trench zone.
TRI is not alone in seeing potential in the area. Goldshore Resources Inc. acquired the 143 sq. km Moss Lake property from Wesdome Gold Mines in a $57 million transaction in May 2021 and has already commenced a 100,000 metre drill program. According to Goldshore's website, the Moss Lake property has 1.47 M oz of Indicated and 2.51 M oz of Inferred historical gold resources.
In between the Moss Lake property and the Larose property is a land position owned by Kesselrun Resources Ltd. has acquired the Huronian property. According to Kesselrun's website, its property features the Huronian Historic Mine, which produced 30k oz Au and 170 oz Ag and has historic (i.e., non-NI 43-101 qualified) indicated resources of 45 oz Au @ 15.3 g.t and Inferred resources of 501k oz Au @ 144 g/t
To the north and south respectively, Trojan Gold Inc. and Strike Copper Inc. (both related companies to TRI) also have substantial land holdings in the Shebandowan Greenstone Belt (TRI has approximately 12,000 acres Strike Copper has approximately 15,000 acres). A map of the area showing the various properties and their ownership is provided below:
Beardmore-Geraldton Gold Camp
Located in Northwestern Ontario, Tashota's property (9,328 acres) under option is primarily a gold prospect. It consists of:
The Paulpic Gold Deposit, which contains an inferred mineral resource of 68,900 ounces of gold with an average gold grade of .241 ounces per tonne (presented in a NI 43-101 Technical Report) which is the most substantial mineral deposit known to date on the property.
The Wascanna shaft, which was the subject of underground development between 1917 and 1937. Subsequent work performed in 2013-2014, included 10 diamond drill holes near the shaft which produced 9 holes with visible gold.
At the Wascanna mine site, waste rock from underground mine development in the 1930's was piled beside the Wascanna shaft (the "Wascanna stockpile"). The Wascanna stockpile has been estimated to contain approximately 8,000 tonnes of broken rock with an average grade of approximately 4 grams of gold per tonne.
The average for drill hole W13-02 was 8.226 g/t Au over 8.70 metres, including 3.90 metres averaging 15.675 g/t Au, including 1.35 metres averaging 31.283 g/t Au, including 0.45 metres of 55.346 g/t Au.
WASCANNA Stockpile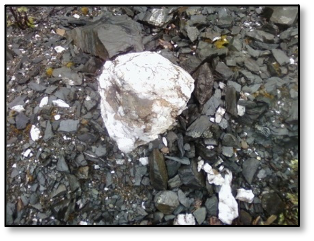 Quartz from Wascanna Tailings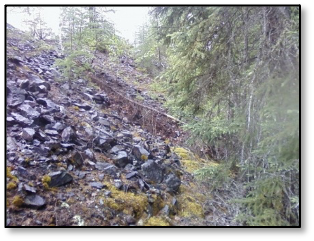 8,000 Tonnes of Wascanna Shaft Tailing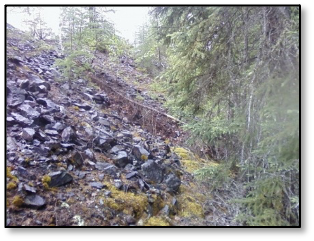 Mixed Quartz and Greenstone Tailings
The Wascanna stockpile has been estimated to contain approximately 8,000 tonnes of broken rock with an average grade of approximately 4 grams of gold per tonne (approximately 1,100 ounces).
Current Offering
TRI is currently offering units consisting of treasury and flow-through shares which are presently restricted to accredited and institutional investors only. TRI is also in the process of completing an Offering Memorandum expected to be available to retail investors during the first quarter of 2022. For more information, please contact TRI at link.