The Shebandowan Greenstone Belt is part of the Wawa Abitibi Sub Province, the world's second largest historic gold producing terrane. Recent studies have recognized that the many showings and deposits in this area are likely part of an extensive IOCG (Iron Ore Copper Gold) mineralized system.
Gold was first mined in the Northwestern Ontario Shebandowan area, at the Huronian (Moss) Mine (later called Ardeen Mine) in 1871, following a discovery made by Peter McKellar and a First Nations prospecting crew. The Ardeen was known for hi-grade production having produced 29,629 ounces gold and 170,463 ounces silver from 143,724 tons from 1932-1936 (according to the Ontario Ministry of Northern Development and Mines Production Records).
The old Tip Top Mine (later called North Coldstream) was discovered in 1872 and mined from 1900-1929, and again from 1957-1967. Historical production from this mine included 103 Million pounds of copper, 22,000 ounces of gold, and 44,000 ounces of silver from 2.7 million tons of ore.
Notable major companies operating in the Shebandowan Greenstone Belt include; Goldshore Resources Inc., Kesselrun Resources Ltd., Paleo Resources Inc. and White Metal Resources. In addition Strike Copper Corp. and Trojan Gold Inc. (related companies) both have significant holdings in the area. Goldshore, which owns the Moss Lake property to the east of the Echo Ridge and LaRose properties was acquired from Wesdome Gold Mines Ltd. in May 2021. In Q3 2021, Goldshore commenced a 100,000 metre drill program, which is already showing promise.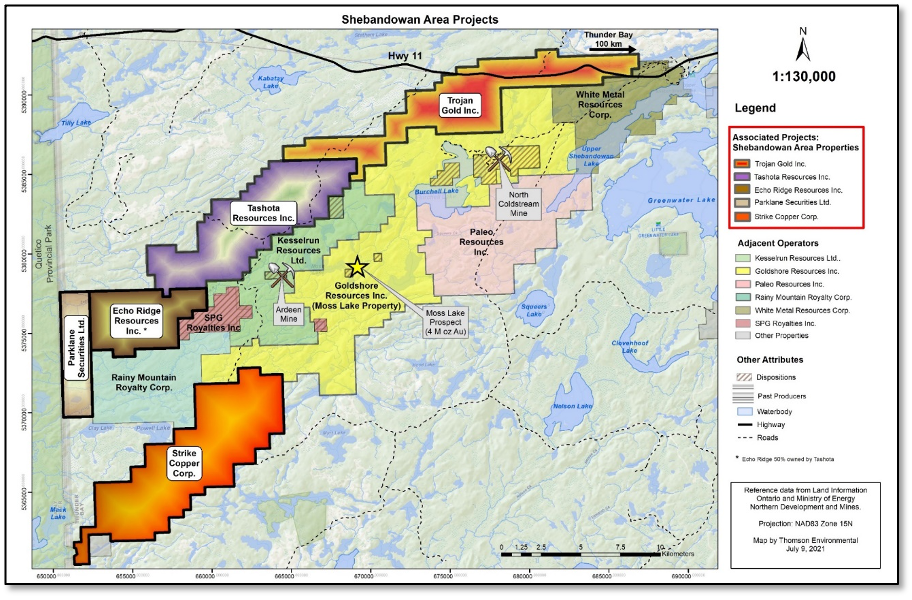 Click on image to enlarge
The LaRose property was originally prospected by TRI's Director, Mr. Russell Kwiatkowski for which he received the 2004 Discovery of the Year Award. This property includes the LaRose Shear Zone (LSZ), which is 40m wide in the P1/P2 Area, traced for 4km along strike and altogether it runs approximately 9 km on the LaRose Property and probably another 4-5 km through the Echo Ridge property.
Drilling near the P1 and LaRose Trenches intersected an "unexpected" high grade gold bearing zone, including 5.65 grams of gold per tonne (g/T Au) over 3.00 metres from 42.00 to 45.00 metres downhole, including 0.50 metres of 27.69 g/t Au. If adjacent samples with lower gold contents are included, a section from 38.50 to 46.00 metres, averaged 2.84 g/t Au over 7.50 metres. TRI is presently performing additional exploration drilling to determine the extent of the LaRose/T-Trench zone.
The Echo Ridge property is a promising copper-gold-silver-molybdenum prospect, which suggests both porphyry and mesothermal systems are present. At Echo Ridge, results from recent prospecting have revealed six new discovery areas with results as high as 6.97% Cu, 4.5 g. /t Au, 66 g. /t Ag and 0.4% Mo. Such wide-spread Cu-Au-Ag-Mo occurrences bodes well for a major drill program.
The Echo Ridge Property is composed of a diorite intrusive with multiple porphyry prospects. There are at least six drill ready targets along a six to seven kilometer stretch. Preliminary work completed in 1990 by Noranda to the NE of the new discoveries indicated presence of significant Cu mineralization within the diorite (.58% Cu, 0.10 g. /t Au and 7.7g. /t Ag over 8 metres).
In 1990, a small drill program on a newly acquired nine-unit block tested the mineral occurrence and returned 0.52 g./t Au, 31.8 g./t Ag, 1.75% Cu over 1 meter. Surface grab samples from similar mineralization assayed as high as 13.3 g. /t Au and 4.2% Cu. Additional three blocks of claims staked this past year cover gold values reported by Murgor Resources. Gold with values of 22.1g. /t and 19.2g/t is hosted by moderately sheared quartz feldspar porphyry (a dike of unknown thickness).
TRI has recently completed an eight drill hole program at Echo Ridge. This drill program is a follow up to the summer drill program on the property which produced encouraging results. The pictures below show drill core samples that have been delivered to Activation Laboratories Ltd. (Actlabs) for analysis and the Company is now awaiting results.
Click on image to enlarge